With billions of microcontroller devices worldwide, it's now easier for developers to reduce cyber risks and improve system resiliency
San Diego, CA, May 1, 2023 — PX5, a global leader in high-performance, real-time operating systems (RTOS) and middleware, today announced support for Arm® TrustZone® technology in its advanced PX5 RTOS, enabling developers to strengthen device security from hardware through to application code. As microcontroller unit (MCU) device deployments increase and system demands grow, manufacturers need efficient ways of securing products at the lowest levels — the PX5 RTOS support for Arm TrustZone ensures embedded developers have the tools necessary to mitigate cybersecurity risks down to the physical layer.
"With MCU-based products at the core of our daily lives, from automotive components to industrial shop floors, it is imperative for manufacturers to address cybersecurity risks from the hardware up," said William Lamie, CEO, PX5. "The PX5 RTOS support for Arm TrustZone for Cortex®-M23 and Cortex®-M33 promises to enhance and simplify security for even the most demanding embedded designs."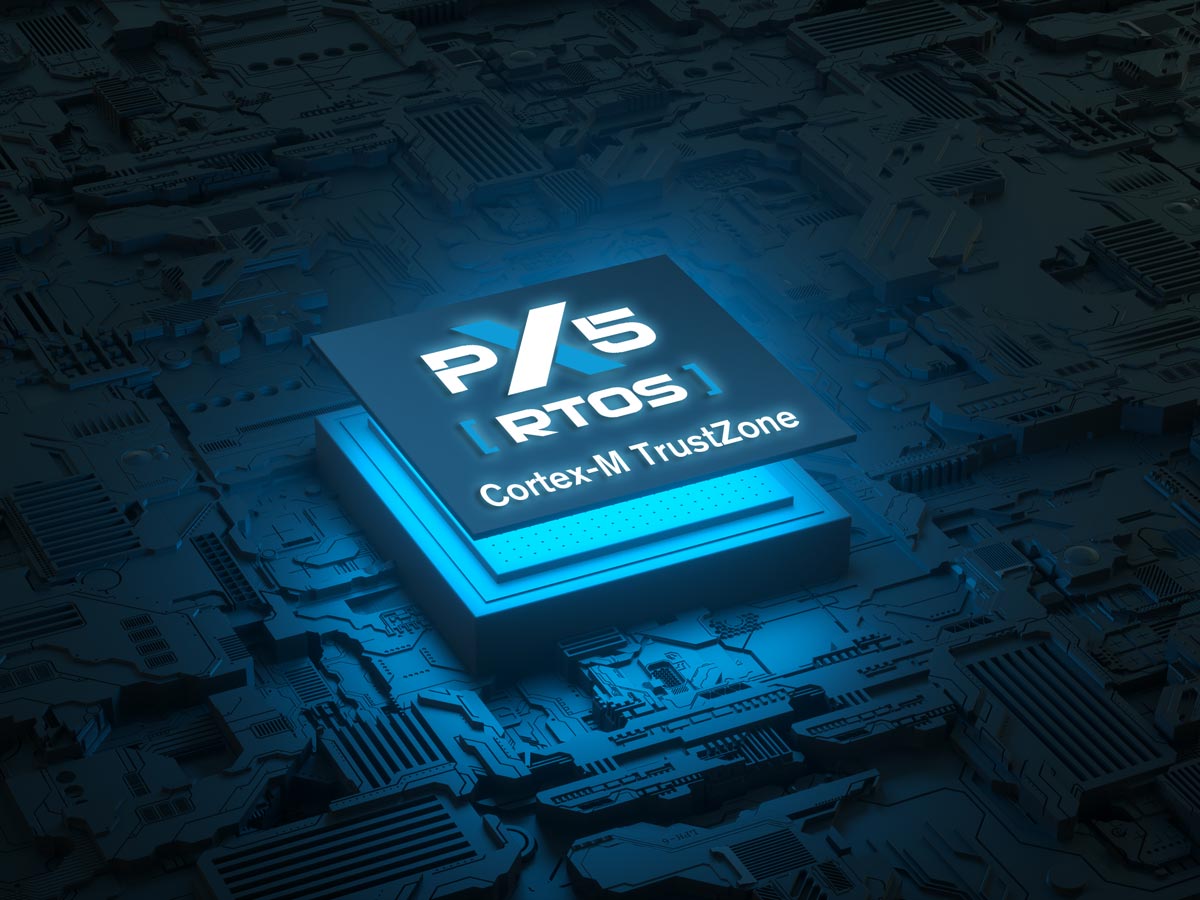 System-Wide Security for IoT Devices
Arm TrustZone technology enables robust levels of protection at all cost points for IoT devices. By separating MCU hardware into secure and non-secure environments, and including memory, peripherals and bus transactions, this technology helps developers isolate critical security firmware, assets and private information from the rest of the application. The PX5 RTOS extends these capabilities into software, through patent-pending Pointer/Data Verification (PDV) technology, giving developers more control and awareness of potential security risks in code. This level of secure isolation provides the perfect starting point for establishing a device root of trust based on the Platform Security Architecture (PSA) guidelines for IoT systems.
Purpose-built RTOS for Today's Demanding IoT Devices
The industrial-grade PX5 RTOS is an advanced, fifth-generation RTOS designed for the most demanding embedded applications with best-of-class size, performance, safety and security. The PX5 RTOS is built on a native implementation of the industry-standard POSIX pthreads API, including semaphore, mutex and message queues, and offers real-time extensions such as event flags, fast queues, tick timers and memory management. This industry-standard support instantly enables a wide range of software stacks—both open source and commercial—for real-time embedded IoT platforms, reducing time-to-market, improving device firmware quality and enhancing portability across platforms. These benefits help device makers maximize their investments in firmware development.
PDV Technology for Arm TrustZone
PX5 RTOS's PDV technology complements the secure/non-secure partitioning that is inherent in the Arm TrustZone for Cortex -M architecture. Along with TrustZone, PDV is an integral part of an overall defence-in-depth strategy by greatly helping to detect and mitigate both accidental and malicious memory corruption of function pointers, function return addresses, internal system objects, and memory pools. Without PDV, memory corruption may go unnoticed and function pointer or stack corruption may even lead to remote execution attacks.
PX5 RTOS supports the IAR Systems, Eclipse/GCC, and Arm development tools, complementing the existing support for the Arm Cortex-M, Cortex-R and Cortex-A architectures.
---
About PX5
Headquartered in San Diego, CA, PX5 offers the industry's most advanced runtime solutions for deeply embedded applications. PX5 products include full source code and are available free of run-time royalties. For information, please visit px5rtos.com, or Email
Press contacts
Amy Foschetti
HCI Marketing and Communications, Inc.

View All Press Releases